Keynote Speakers
Day 1 (8 Aug) – Dr. Steve Jarvis

Director – Bagshaw Jarvis
Steve Jarvis is a specialist in error, human task performance and flight safety. He was senior lecturer, course director and aviation human factors lead at Cranfield University, before leaving in 2012 to meet the increasing industry demand for his services. He has acted in an advisory capacity to many airlines and large helicopter operators.
He is Fellow of the Royal Aeronautical Society, a Chartered Ergonomist / Human Factors Specialist and holds PhD and MSc degrees in aviation safety and human factors. He was the main author and editor of CAP 737 (UK CAA publication).
Steve is best known for the practical application of multiple disciplines to resolve aviation safety issues (supportably, but without lengthy academic research). He has developed many techniques that blend academic / scientific rigour with the practical and fast-moving demand of aviation operators, in order to improve safety performance. His success is shown by repeat demand from world leading aviation organisations, and by the impact of his work internationally.
Day 2 (9 Aug) – Dr. Matthew Thomas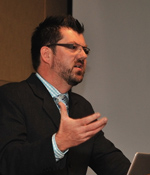 Director, Westwood-Thomas Associates
Senior Research Fellow – Human Factors, University of South Australia
Dr Matthew Thomas is one of Australia's leading Human Factors experts. He is the Director of Westwood-Thomas Associates, a consulting practice that provides a wide range of services relating to Human Factors across high-risk industries. He currently holds a range of positions including:
Senior Research Fellow – Human Factors at UniSA
Vice-President, Australian Aviation Psychology Association
Member of Council, Australian Patient Safety Foundation
Member, Australian Advisory Board – Fight Safety Foundation
His areas of expertise focus on human error, non-technical skills, and the design of error tolerant systems. He has an established consultancy and publication record in these areas and is currently involved in a range of projects with industry partners in aviation, healthcare, and rail.